11. October 2013

- media information
Concerning the future of municipal water management: new integrated solutions by netWORKS 3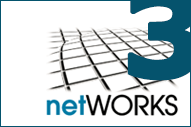 The demographic development in German towns is progressing very differently: While some districts or neighbourhoods are facing a constant influx, others areas have to deal with rising vacancies. Such sometimes short term dynamics cause problems for the water management companies: Because it is almost impossible to attune water and wastewater infrastructures to a changing demand on short notice. For a sustainable solution of such water management problems the project netWORKS 3 is developing intelligent integrated solutions in the cities of Frankfurt am Main and Hamburg.
Once built, municipal infrastructure is designed for a use of several decades. Operators can hardly react to changing framing conditions in a flexible way. The underutilisation of sewers, pipes and systems e.g. in rural regions also represents a problem just as surcharge does in urban areas. Ineffective infrastructures are problematic for the operators mainly because of their energy demand and the corresponding high costs.
Thus, the municipal operators and service companies need flexible solutions that allow to preserve resources. This is where netWORKS 3 comes in: Under the lead of the ISOE - Institute for Social-Ecological Research, a team of scientists and practitioners is developing and testing innovative solutions of municipal water management, that can be implemented in a flexible way for different requirements.
Intelligent integrated water management solutions for new residential areas
Here, these solutions become implemented for the first time on a larger scale. "From a technical point of view it is possible to recover heat from wastewater, just to mention one example" says project leader Jörg Felmeden from ISOE. The problem is that alternative approaches like heat recovery or the use of recycled greywater are not implemented yet on a larger scale in new residential construction projects. "Thus, the implementation of modern technology is facing many uncertainties. Possible financial or legal barriers  that might in fact happen to house owners or tenants, but also the municipal service provider, are hardly known."
Existing water and wastewater systems draw a clear line between private and public areas of responsibility. "The borderlines between landlord and tenant, between house owner and service provider have so far been clearly defined. But the new technical solutions make it necessary to (re-)inspect the legal frame and financial leeways of the stakeholders under changing conditions" says Jens Libbe form the German Institute of Urban Affairs (Difu), project partner in netWORKS.
Alternative solutions of water use and wastewater treatment
In selected residential areas of Frankfurt am Main and Hamburg the different new integrated solutions will be simulated, assessed, and implemented. They are focussing on an increase of energy and resource efficiency and on a sustainable water use and wastewater treatment. The main focusses are on  the recovery of heat from wastewater in order to use it for heating, and the treatment and use of so called greywater. This water is suitable for toilet flushing, for use in washing machines and dishwashers or for garden irrigation. Another goal of the project is to explore the social acceptance of users of such alternative solutions.
The model regions Frankfurt am Main and Hamburg
In the Salvador-Allende-Straße, district Bockenheim, a passive house with about 70 apartments and a day care centre is planned. The application for the construction permit has been presented by ABG Frankfurt Holding and ABGnova. In this case, heat recovery from wastewater will be implemented and tested as a measure of the energetic optimisation of the apartment block. Additionally, reuse of treated greywater for toilet flushing is applied in one half of the building.
In Hamburg suitable model regions/neighbourhoods will be identified, checked for their transformation potential and investigated in terms of technical feasibility and impact on the whole system of the Hamburg sewage network and wastewater treatment. To this end, technical and economic data on water, energy, and material flows of water infrastructure systems will be compiled, processed, modelled and analysed. The emphasis is on considerations concerning the conversion and development of existing neighbourhoods and their chronological progression.
The ISOE - Institute for Social-Ecological Research coordinates the project "netWORKS 3: Intelligent integrated water management solutions in Frankfurt am Main and Hamburg". Research and project partners are the German Institute of urban Affairs (Difu), Berlin, the Workgroup for Infrastructure Policy (WIP) at Berlin Institute of Technology (TU Berlin) and COOPERATIVE – Infrastructure and Environment, Reinheim. Industrial partners in the project are ABG FRANKFURT HOLDING and ABGnova GmbH as well as Hamburger Stadtentwässerung AöR (HSE), a company of HAMBURG WASSER.
netWORKS 3 is funded by the German Federal Ministry of Education and Research (BMBF) within the funding programme "Intelligent and multifunctional infrastructure systems for a sustainable water supply and sewage disposal (INIS)".netWORKS 3 continues working on and implementing the results of the previous research projects (netWORKS 1 and 2) of the research collaboration.
Webseite des Forschungsverbunds: http://networks-group.de
Press contact:
Melanie Neugart
Phone: +49 69 7076919-51
neugart@isoe.de